For some users, after updating the Android system, a Dianxin folder appears , which can take up most of the disk space - up to tens of gigabytes. Let's try to figure out what the Dianxin folder is, why it is needed and whether it can be deleted.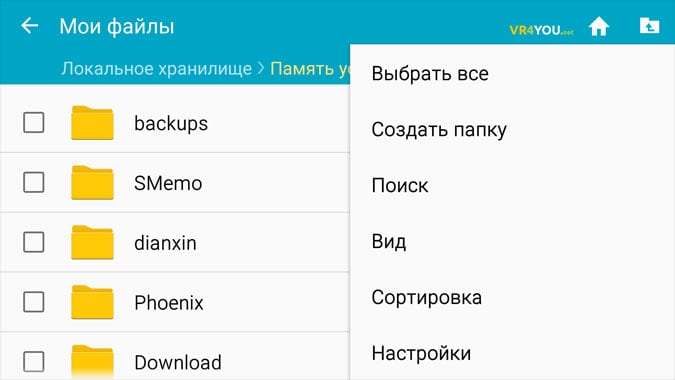 The content of the article:
What is this Dianxin folder and why is it needed?
As its name suggests, the Dianxin catalog is associated with the Chinese IT company Baidu Dianxin , one of the products of which is the custom firmware for Android OS. It is this firmware that uses the Dianxin folder. As a result, it contains many system files, a graphical shell, sounds, etc., which leads to a large folder weight.
Dianxin is in the root directory of the smartphone, and does not cause any problems except that it takes up a lot of free space in the device's memory. Despite its harmlessness, some antivirus programs mark a folder as dangerous. Because of this, users are trying to remove it, which does not lead to anything - after a reboot, the directory appears again. To delete the Dianxin folder permanently, you need to use an antivirus (for example, CMSecurity), and also eliminate the reason for its appearance.
Where does the Dianxin folder come from?
Regarding the reasons for creating this folder, questions arise. It is not surprising if it appears on Chinese smartphones - on them it can even be located by default. However, in some cases, the Dianxin directory is even detected on Nexus devices, where, by definition, nothing original should appear without the user's permission.

By the method of exclusion, it was found out that this folder is created by the following applications from the GooglePlay store:
latest versions of ES File Explorer;
DUBatterySaver in the Chinese edition.
The procedure for eliminating the Dianxintak directory:
Disable app permissions notifications in Explorer settings.
Remove Chinese applications.
Delete the folder.
Reboot the device.
Now that you have learned what the Dianxin directory on Android is, and you know how to delete it, the problem will be solved, and the free space in the memory of the smartphone will cease to disappear.


How do you rate the article?