Games of the genre "survival" have always enjoyed deserved popularity among many users. The process of survival after the "nuclear winter", when the benefits of civilization are almost destroyed, and crowds of gangsters and mutants now roam the previously flourishing cities, it can be quite fascinating, able to capture the player's attention for many game hours. The game "Day R Survival" is a vivid representative of this genre, the player will have to solve a host of problems associated with food, food, clothing, heating, overnight stay and other related issues. In this article I will talk about the game "Day R Survival", as well as describe the secrets of passage and cheats for this exciting game.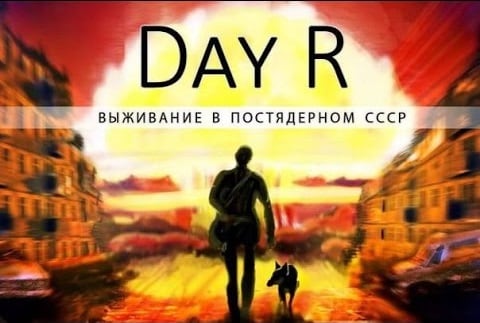 An interesting browser game: Cursor.io .
The content of the article:
Day R Survival - Survival in the Post-Polish USSR
The game "Day R Survival" is mainly a text quest for passing on Android and iOS mobile platforms, which takes us to the 80s of the last century, at a time when the Soviet Union fell from an unknown enemy, and human civilization in the expanses of the USSR was almost destroyed. The remaining survivors (among whom is the character of the game) are forced to wage a constant struggle for survival, overcoming various dangers at every turn.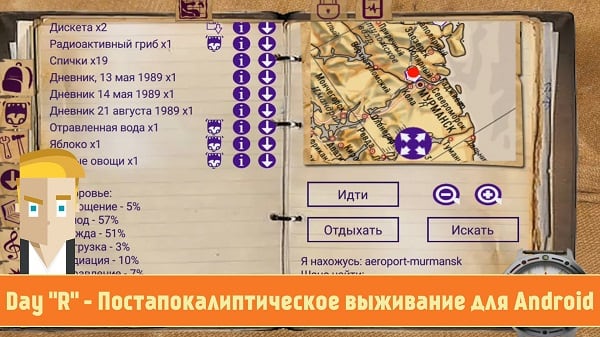 The game has several levels of difficulty passing, I would advise beginners to start with the "Sandbox", since survival in the game requires a number of skills that you will not get right away. During the game, you must complete many quests, and it depends on your wit, attention, and ability to reflect on how far you will go to Day R Survival.

You need to play: Moomoo.io .
Secrets and the passage of "Day R Survival"
Since the gameplay is quite diverse, and has many important details, then a complete brochure is needed to fully list the latter. However, I'll focus on a few important tips for Day R Survival:

In the first game week, focus your efforts on finding food and a backpack, and, if possible, a bicycle;
Do not eat uncooked food, and do not drink unpurified water, you can get poisoned;
Do not sleep in the cities. There is a high level of radiation, and if you get a high level of radiation, you can get sick with radiation disease;

Game Card in Day R Survival

Try to find (or create) a weapon. It is very important to protect yourself from external hazards;
Do not use too much medicine and alcohol;
Increase your skills and abilities where possible, the higher your skills, the greater the chance of survival. For example, the ability to sew can be enhanced by tearing the clothes into rags, stitching "rag clothes" from them, and tearing them again (repeat the operation for as long as you can);
Do not attack the gangsters until you are able to defeat them;
Do not carry with you more than you need food, weapons, objects;
Items that you have left in some places, you can usually pick up later, returning for them;
Avoid extreme radiation zones (large red circle on the map);
Study information about objects. In "Day R" a lot of items have a short lifespan, and quickly fail;
If you are using a vehicle with a motor, watch the amount of fuel available. It is best to use to move the motorcycle, until you arrive at the base of survival;

In "Day R" you have to move a lot to survive.

Rafts do not use fuel and do not break. It is most effective to use them on water or rivers (not all rivers in the game are made of water);
Be careful with the weather. Some weather conditions are dangerous (earthquakes, storms, storms, acid rain). Protect yourself from adverse weather conditions;
An important secret in Day R Survival: Sleep next to fire. The latter will not allow you to steal food from you, also you will rest much faster and use less food;
Use the ax to quickly get wood.

Cash inventory screen in "Day R Survival"
Cheats for Day R Survival
Currently, there are a number of Day R Survival mods and cheats that allow you to get additional opportunities to buy the right items.
For example, the mod " Day R Premium MOD " (v 1.472) with a cut out license check allows you to get enough money to buy the necessary equipment. Click on the link, scroll down the opened page, and there you will find the hacked version of the game for download.
You can also try another "Day R Survival" mod from apk-man.ru (this mod according to reviews is less efficient than the previous one).
Also in the game, you can enter game codes that grant various bonuses. At the same time, their functionality can be dubious - the developers are constantly improving the game, and some loopholes for cheats may already be closed.
So type the following codes in the game:
PurCh_9ce45d0630 - free purchases;
IZ_hPBHVNDHHC - one hundred caps;
PO_HW7dUmWxMc - one thousand covers;
MH_3irwRrc8LU - ten thousand caps;
WF_p0CZ1xX1rW - one hundred thousand caps.

Use cheats and mods to facilitate the gameplay of "Day R Survival"
Conclusion
"Day R Survival" is a text quest from a domestic developer that takes a player to the post-apocalyptic world of the late USSR, which has undergone a nuclear attack. I recommend fans of games of this genre to take a closer look at the game - perhaps the gameplay "Day R Survival" will enthrall you for a long time, giving you lots of bright and exciting game minutes from an exciting gameplay.


How do you rate the article?