When trying to go to the "Messages" tab of the Vkontakte social network page, the user may encounter an error and the corresponding string "JavaScript error: Mutations are not initialized". Usually, this error occurs due to the Vkontakte developers, and the user's system settings do not have a significant relationship to this problem. In this article I will tell you what "JavaScript error: Mutations are not initialized" is, what are its causes, and how to fix the error on your PC.


The content of the article:
What does "JavaScript error: Mutations are not initialized" mean?
In translation, the text of this error sounds like "Javascript Error: Changes are not initialized . " Usually, the occurrence of such (and similar) errors means a situation when there are some problems in the operation of the internal VK code written in the Javascript programming language.
As I mentioned above, the features of the user's system are quite distantly related to the reasons for the appearance of this error, while on some browsers this problem may appear more often (for example, Mozilla), and on some less often (Google Chrome).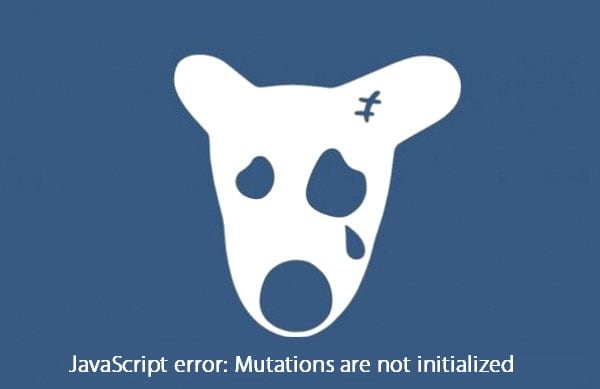 JavaScript error: Mutations are not initialized - how to fix
After we figured out what "JavaScript error: Mutations are not initialized" means, let's get to the ways of how to get rid of the data on your computer. As I mentioned above, this problem occurs due to the fault of the Vkontakte developers, and usually after some time (on average a couple of days) is solved by the technical team of the site.

I recommend to write a letter to the technical support of "VK" , in which to state the mentioned problem, your letter will help speed up the process of correcting dysfunction.
Also recommend doing the following:
Change your browser settings . и нажмите ввод. If you are the owner of Mozilla Firefox, type in

about: config

in the address bar and hit enter. Then click on the "I accept all risks" button, in the list of settings, look for the setting named "dom.storage.enabled", and set its value to "true" (if this is already there, leave everything as it is);

Set the value of the "dom.storage.enabled" parameter to "true"

Clear your browser cache . For example, in Mozilla this is done by going to "Settings" - "Privacy" - "Delete your recent history" (check the box "Cache");
Try a different browser p. A good result was obtained in the Chrome browser (this error occurs with it statistically less often), and also due to the installation of older browser versions on the PC (for example, Mozilla 25.0);
и Adobe Flash Player на вашем компьютере; Update current Java and Adobe Flash Player versions on your computer;
Check your PC for virus programs . Dr.Web CureIt !, Malwarebytes Anti-Malware, Kaspersky Virus Removal Tool and a number of other analogues will do.

Check your computer for anti-virus programs using Dr.Web CureIt!
Conclusion
The message "JavaScript error: Mutations are not initialized" occurs in a situation when the internal system of the VK site encounters an error destabilizing the work of any subsections of the site (in this case, the Messages tab). The best response in this case will simply wait for the developers to fix the problem that has arisen, and the full functionality of the site will be restored. I also recommend that you follow the other tips I have listed, they can help resolve the error on your PC.



How do you rate the article?