Modern printers of the Japanese company Kyocera, which were developed after 2013, are equipped with a special mechanism. It determines the amount of toner in the cartridge and alerts the user to purchase a new one. He still has several features. One of them can detect a fake cartridge. Therefore, users are often confronted with the message - "Non-original toner cartridge. Click [Help] in Kyocera. What to do in this situation, you can learn from this article.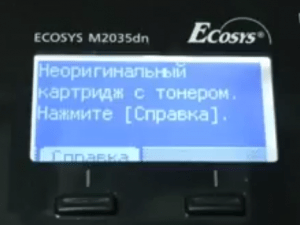 The content of the article:
How to disable the message on non-original cartridge
When an error occurs about a non-genuine cartridge, the user is not able to continue working. » и другие. In this case, some other functions of the device are blocked, for example, print functions, the " Start " button and others. But this does not mean that we will not be able to use the seal and continue working. Japanese developers have made it possible to work with a printing device in case of such errors. Usually, to eliminate the error, you need to press a few keys on a specific model or hold them.

Such actions will need to be performed every time you change the cartridge on your device. For details, you can study in detail the instructions for your printer.
Consider several models and a combination of buttons that help to reset the message with the error "Non-original toner cartridge":
For the following devices FS-1040/1, FS-1060DN (FS-1061DN) - press the "Cancel" and "GO" buttons together for 4-5 seconds;
Models FS-1030MFP, FS-1130MFP, as well as FS-1035MFP, 1135-MFP - try pressing the "Stop" and the "OK" button together at the same time. They must be held for at least 5 seconds;
The next row of FS-2100D, FS4100DN, FS-4300DN, FS-2100DN models — hold Cancel and OK for more than 3 seconds;

Kyocera printer

For these FS-1100, FS-1320D devices, as well as the FS-1110 and FS-1120D models, hold for two seconds or more two buttons — green and red;
For ECOSYS M2530dn, ECOSYS M2030dn and ECOSYS M2035dn - hold down the "Stop" and "Ok" keys.
There are also other errors associated with refilling the cartridge. For example, the "Add Toner" error means that the cartridge is irregular or incorrectly refilled. In this case, you can contact the one who ran it and make your claim to the quality of service. Consider a few more models in which the Kyocera Aftermarket Toner Cartridge error occurs.

In models ECOSYS M2135dn, as well as ECOSYS M2635dn and ECOSYS M2540dn - press the two buttons "Stop" and "Ok" together and hold them;
ECOSYS M2540dn, ECOSYS M2540dw, ECOSYS M2635dw - select together and keep the "Stop" and "Ok" buttons pressed for at least 4 seconds;
ECOSYS P2335d, ECOSYS M2735dn, ECOSYS M2835dw - press "Ok" and "Stop" and hold up to 5 seconds.

Chip responsible for checking the amount of toner in the cartridge
Other errors in Kyocera
These device models are also subject to other errors, for example, the "development unit is not installed". But this does not mean that you need to immediately contact the maintenance service. If you have good instructions for fixing this error, you can fix it yourself fairly easily. Sometimes it turns out to get rid of this error by pressing together the following buttons on the panel: "Stop" and "Ok". But this is only a short-term measure and it does not completely eliminate the error.
In order to get rid of the "Unoriginal Toner Cartridge" error permanently, you must first install because of what this problem appears. This can happen if there is not enough toner. Or in simple words - end of paint. When using non-genuine toner cartridges. The Kyocera device in this case cannot determine the level of remaining toner and generates an error. Sometimes this occurs even when using original cartridges. To eliminate such failures, you can also use the tips above.



How do you rate the article?