In the process of working with mobile devices based on Android OS, a user may encounter the inability to access his account on Google. When you try to go to your account, the system displays an error message, incorrect password entry and so on, respectively, access to mail on gmail.com is also blocked. What to do in this situation? In this article I will tell you about G.co/recover account password recovery on the phone, explain what tools you can recover a lost password, and what steps to do this will need to be taken.
The content of the article:
The reasons for the need to recover the password on the phone
The problem described above associated with the loss of the password to the phone can occur for several main reasons:

The user has reset his account settings to the factory settings, and at the same time he simply forgot the password to his Google account;
The account password has been changed by a virus program;
Account password was changed by third parties (usually for fraudulent purposes);
The user has not logged in to his account for a long time (usually this is a period of 9 months) and the latter has been automatically deleted by the system;
The user independently deleted his account earlier.

User forgot password from Google services
How to recover a password through G.co/recover
So how to recover gmail password? In such cases, we were previously asked to go to G.co/recover and start the password recovery procedure. Now the transition to the specified address automatically takes us to this page , offering to enter an email address on gmail.com, the password to which we have been lost.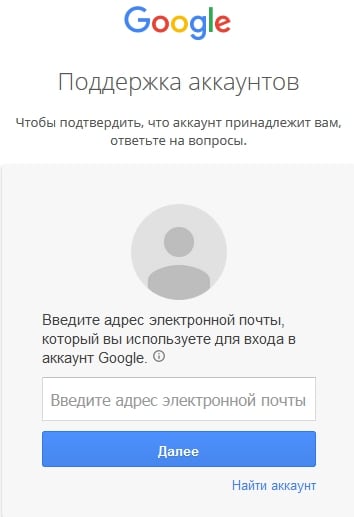 After correct input, the system offers to verify the account in several ways (sending a request to a mobile device, sending an SMS, calling, sending a confirmation email to an alternate email address, a number of leading questions about the user device), and, with successful validation, the user can change the password to your account and use its updated version.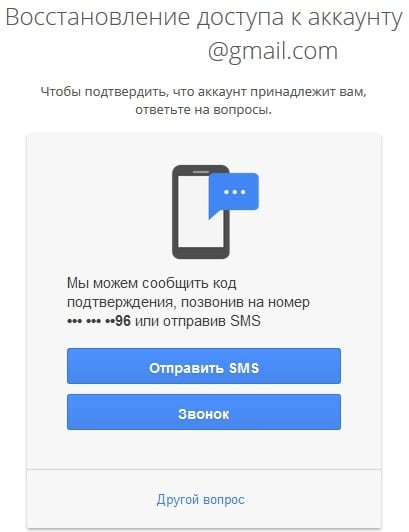 To do this, you will need to come up with a new password (preferably consisting of a series of letters and numbers) and enter it twice in the appropriate window.

Detailed instructions for restoring access to your account from Google are offered here . At the same time, I will immediately indicate what to write to the support service regarding the recovery of your password in most cases is meaningless - you will be offered to go to the password recovery page (the link to it is indicated by me above) and follow the standard recovery procedure.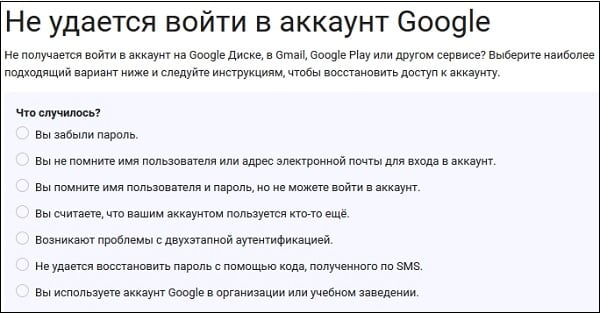 How to reset your password via google.com/accounts/recovery
Another previously existing option for password recovery for a Google account was to go to google.com/accounts/recovery. Today, when trying to navigate through this link, the system automatically redirects us to the address already indicated above, where the user can go through the classic password recovery procedure (sms, call, leading questions). That is, de facto, there is no difference between following the first or second link.
If you delete your account on Gmail
If for any reason you have deleted your account on Gmail (or simply did not log into your mailbox for more than 9 months), then most likely you will not be able to regain access to your email account in Google. You will have to create a new account with a different name (you will not be able to take the old name either) and start everything from scratch. If you deleted your account quite recently (a week or two), you can try to go to the account recovery page above, and try to restore the last one by the standard procedure.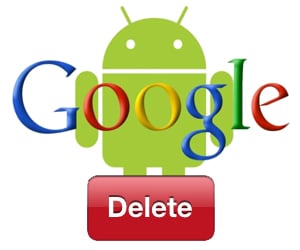 If access to your account was obtained by attackers
If your account could be cracked by attackers, then the password recovery procedure may be complicated. For recovery via G.co/recover, you should use those tools and information that only you have access to and do not have third parties (for example, answer correctly the leading questions about your IP address, version of your browser and other private confidential data ).
Conclusion
If you have lost the password to your account in Google, use the procedure through G.co/recover to restore the account password on the phone, and go through all the steps necessary for this. The most convenient solution will be password recovery via SMS - it will make it quite easy to restore access to your account. If the mobile number has not been linked to your mobile account in Google before, then you should use the confirmation via alternative email and answers to leading questions - this will allow you to log in correctly to your account, and then enjoy the full capabilities of its functionality.


How do you rate the article?